Greater New York Dental Meeting seeks enthusiastic volunteers to assist at the 2023 Greater New York Dental Meeting, the premier event for dental professionals. To pull off an event of this magnitude, it's all hands on deck! Our volunteers are an integral component of our convention's success. There are numerous volunteering opportunities, from roles covering all of the General Convention to our Education Programs.
Interested in Volunteering? Steps to Become a Volunteer.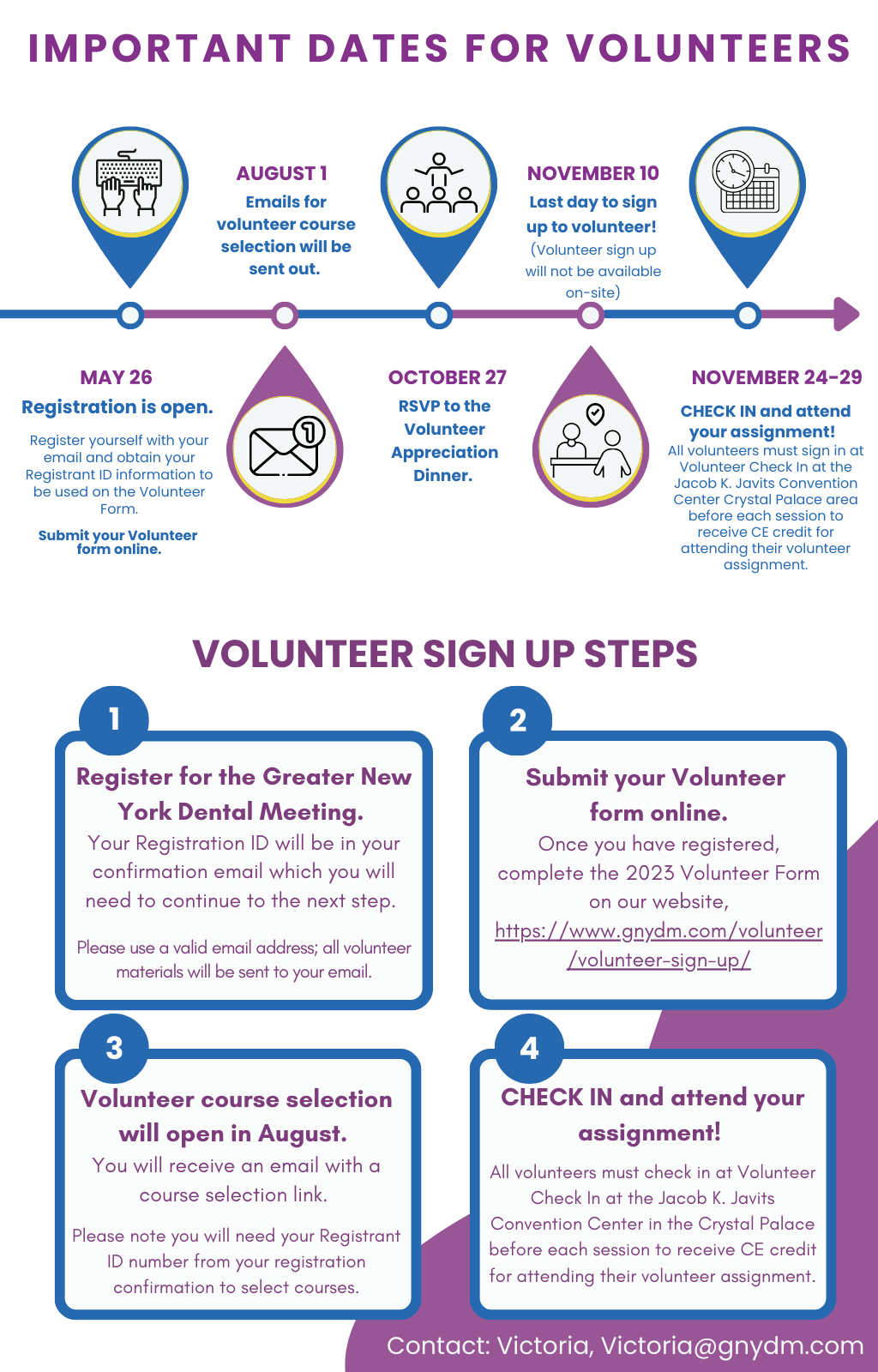 Volunteer Opportunities:
Presiding Chairman
This is an assignment for volunteers comfortable interacting with audiences and presenters. As a Presiding Chair, you will introduce the speaker of the course, give the 6-digit verification code to attendees in the course, relay important information to attendees, and in some cases assist speakers in the question and answer period."
Education Volunteer
The primary responsibilities for volunteering in our educational courses include greeting attendees during sessions, collecting tickets, and submitting those tickets to the Executive Headquarters office at the conclusion of the course.
If you are volunteering in a hands-on workshop, you will be assisting the clinician in distributing supplies and equipment needed for the course, and retrieving said equipment at the conclusion of the course. It is important to arrive 30 minutes before the course begins to assist the clinician properly.
Registration Volunteer
Assist in keeping the Registration lines moving by directing attendees to appropriate areas and confirming that the necessary paperwork has been completed while attendees are in line.
---
Question? Contact our Volunteer Manager
Volunteer Manager:
Ms. Victoria Calas
Phone: 212-398-6922 x101
Email: victoria@gnydm.com
Get Up-to-Date Information on the Greater New York Dental Meeting
SUBSCRIBE NOW